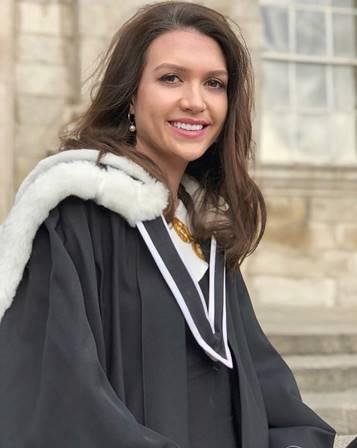 The 2018 winner is Isabel Ottewill.
Comments from Isabel:
On the recommendation of the Trinity College Dublin Business School I was awarded the 2018 Rory McDonagh Prize for earning first place in International Business at Trinity College Dublin. I remember my first lecture in International Business at Trinity. The Professor spoke about the Rory McDonagh Prize and the goal of the Rory McDonagh Trust in supporting global business thinking.
My time at Trinity College Dublin has been very rewarding. I completed a graduate level course on Investment Theory and Applications at Harvard University while only a second year undergraduate. I represented Trinity at the Rotman International Trading Competition at the University of Toronto and was Senior Analyst for the Trinity Student Managed Fund. I was also finalist for the Trinity Business Student of the Year. I am currently a graduate student at the University of Cambridge studying Real Estate Finance having graduated from Trinity College Dublin with First Class Honours.
The Rory McDonagh Prize encouraged me to strive for academic excellence in International Business. I am incredibly honoured and grateful to have received such a generous reward and I am very thankful to the Rory McDonagh family and Trust.